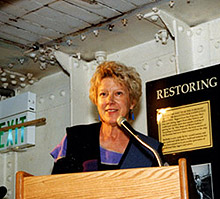 Maria Brooks documentaries include:
Maria Brooks currently lives in Oakland, California, not far from the docks. This one-time high school teacher has produced, written and directed historical documentaries appearing on PBS stations around the country.

Her programs often focus on maritime themes. These documentaries capture characters in conflict, responding to events beyond their control. The filmmaker is particulary drawn to true life stories unknown to most tv audiences. Her films depict individuals driven by inner turmoil to face challenges – but they don't always succeed. She has given her audiences a myriad of tales from one of a haunted black sea captain in the Arctic posing as white - to stories of bedraggled sailors on a doomed convoy on the Murmansk Run in WWII. There's even a tale of an old Eskimo woman fighting to save her reindeer herd from marauding interlopers.
Women of the Alaska Territory (1985)

LifeStories (1988)

The Reindeer Queen (1991)

The Men Who Sailed the Liberty Ships (1994)

We are the ILWU (1997)

The Odyssey of Captain Healy (1999)

Pilebutts, Working under the Hammer (2002)

Shipping Out, the Story of
America's Seafaring Women (2005)
Rebuilding San Francisco,
the Workers' Story (2006)
*
Maria Brooks has won over a dozen national film awards, including a 2007 Emmy nomination for "outstanding achievement in documentary".

What the critics say:
"The Odyssey of Captain Healy"
"….The events that turned Micheal Healy from hero to villain are brilliantly conveyed… A prime example of how fascinating history can be when told well…"
The Video Librarian 1999

"Pilebutts"
"…If you ask me, Pilebutts, Working Under the Hammer, deserves an Oscar…it is highly entertaining, not to mention deeply touching and brutally honest…"
The International Carpenter's Magazine 2004

"The Men Who Sailed the Liberty Ships"
"...In her latest documentary, producer- writer- director, Maria Brooks has raised the art of documenting workers in wartime to a new level…. The story is told with great emotional impact…"
The Dispatcher 1994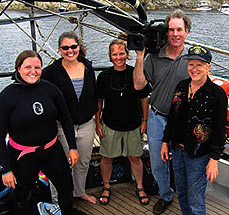 Maria Brooks (right), on location
with Blake McHugh, cameraman,
and sailors on the Tole Mour,
Catalina Island, California, 2004.